Here's How a "Broke" Investor Can Make More Money In The First Year With a Touch Of a Finger, Than A Seasoned Pro In His Fifth Year...
This is a very powerful method for attracting motivated sellers that's quick and doesn't cost anything. If you ignore all other ProfitGrabber features, this one alone can make you rich!
Don't have any money for marketing? Now, you don't have to!
The strategy is to make 100+ low offers to a targeted list, get a few counter offers back and get a deal.
What is going to happen with most of the offers? It is realistic to expect that most offers will end up in the trash can, but a few counter offers is ALL YOU NEED to make substantial profit. With this method you don't even see the properties before you get into negotiation with one of the counter offers.
The 4-hour Task Is Cut Down To Less Than 1 Minute
Before having the ProfitGrabber system, making hundreds of low-ball offers was a very tedious process. If you wanted to make 100 offers, it would take you about 4 hours to calculate each offer, personalize it with the property and agent's information, print it out and fax it one by one. Now, this 4-hour task is cut down to less than 1 minute.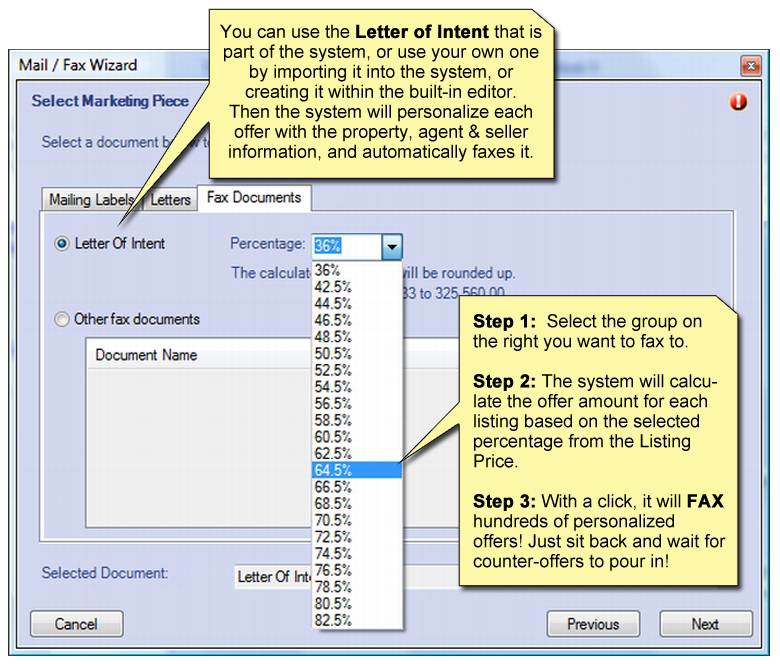 You will easily capitalize on your agent relationship with this NO-COST method. There are 10's of thousands of agents in every city, over 1.4M in the U.S. You will learn how to establish a "win-win" relationship with multiple agents who will supply you with an endless list of properties to make offers on, at no cost to you. You'll be able to find those sellers who are in desperate need of a buyer for free (that's you), with just a click. All in less than a minute and at no cost to you.
Advanced Feature: The system keeps track of the offers that reached a busy signal for easy re-faxing.